Warren's Bio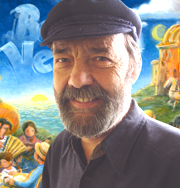 Warren Lloyd Dayton was born March 1, 1940 in Sacramento, California as the fourth generation of an early California pioneering art family. He won a scholarship to Chouinard Art Institute in Los Angeles in 1961 (now known as California Institute of the Arts) where he studied illustration and advertising design. After working in ad agencies in southern California, he began a freelance career in 1965.
After converting to Christianity in 1974, Dayton founded Prints of Peace publishing the work of 12 Christian artists including fellow Chouinard (CalArts) alumni and psychedelic poster artist, Rick Griffin.
In 1985, Warren Dayton moved to the Sierra's near Placerville, California, where he currently lives and works. Warren Dayton began the design studio, ArtiFact, Ink in 2001. Recent awards include a poster chosen for the 2009 & 2008 Society of Illustrators of Los Angeles national competition Illustration West.[6] He does work for charities, such as logos and mastheads for Focus on the Family and Habitat for Humanity and murals for an ophanage in Mexico and other worthy causes, and continues to publish limited-edition prints.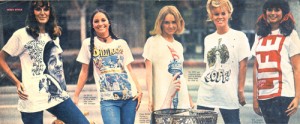 Earliest Use of Art on T-Shirts:
In 1967, Dayton pioneered wearable art on t-shirts in a line designed for clothing chain: Zeidler & Zeidler featuring images of Cesár Chavez, the Statue of Liberty, polluted lungs and other political and comic images. These were unique enough at the time to warrant a feature in Los Angeles Times' West Magazine by art director, Mike Salisbury.
The shirts were modeled by playboy bunnies for extra popularity…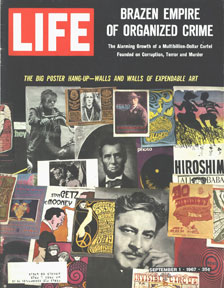 1960's Counter-Culture & Psychedelic Posters
Upon the emergence of the Hippies and explosion of counterculture art, Dayton's posters such as "Quack" and "Now" came to be highly collected from 1967–1973 and were featured on the cover and lead article about the psychedelic art phenomenon in Life Magazine. The poster's were mostly published by Steve Sachs Publishing of Los Angeles. Warren Dayton's posters can be seen in films and documentaries of the hippie and Haight-Ashbury era, such as American Experience: Summer of Love (PBS Broadcasting, June 2007).

The most popular poster of the many featured was an ironical and funny war protest, parodying James Montgomery Flaggs' famous "I Want You for the US ARMY" – the poster "Quack" became a huge-seller, supporting Warren on the royalties for six years!
You can read more on Warren Dayton's bio on Wikipedia:
Here is another article about Warren Dayton's (apparent) first use of large art printed on T-Shirts in 1967!
all art © Warren L. Dayton